Regular price
$90.00 USD
Sale price
$44.95 USD
Unit price
per
Sale
Sold out
Crafted With Love

Free Returns

12,500 Reviews
Still suffering from the discomfort and dryness caused by air conditioning?
Long-term in the air-conditioned room will lead to the closure of sweat glands, affecting the normal metabolism and secretion; over time it will lead to headaches, heavy headaches, dizziness, loss of vision, nausea and other abnormal feelings, and even loss of control of urination and defecation.
Our desktop foldable electric fan imitates natural wind with 3 adjustable speeds to bring you coolness while ensuring our comfort and health, without making you feel dry skin and other discomforts.
It is small in size, but it has a lot of features.
Foldable desktop fan
Designed with a 3-stage fold that stretches to 36 cm. The height after folding is only about 8.5 cm. Can be put in the bag at any time to take out and use, will not take up a lot of space; can be stored in the drawer at home.

Can be moved at will
Wind should not stay in one position because of the bulky equipment, our fan can help you achieve the desire to blow everywhere you go. His body is light enough to go anywhere and use it, and it will not be bound by the charging cable, USB charging method, so you can charge and use it anytime and anywhere.
3 wind speeds can be adjusted at will
3 wind speeds: sleep wind, natural wind, cool wind, so you can stay cool all day long. Adjust the wind speed according to your needs to make it easier to adapt to our own needs.
Sleep wind: help us improve sleep and sleep quality. The wind speed is soft and delicate, so you won't feel cold late at night. Releasing a small amount of negative ions can help us get a deeper sleep and keep us in good spirits during the day.
Natural wind: imitating the wind speed of nature, unlike air conditioners, it delivers a larger area of air without letting the wind blow directly into your face or a part of your body, causing your joints to ache. And it helps blow away the dust floating in the air, reducing nasal inhalation and easing the burden on the respiratory system.
Cool breeze: Powerful breeze makes you feel cool instantly and makes the humid air dry immediately! The high-speed motor can continuously deliver a cool breeze to you.

Unique "shaking head" design
180° allows you to change the angle of the wind blowing at will. Don't like the wind being blown straight, then change the angle and keep blowing. Wide angle air delivery allows you to feel the coolness at every angle.
Noise reduction treatment
Low noise to keep quiet all night long. Noise can reach below 36dB. Will not disturb the sleep of children or family members.
Powerful power support
We are equipped with a new built-in battery, which guarantees a long battery life of 8 hours.
Overcharge protection system
Equipped with overcharge protection is safer to prevent accidents such as fire due to long time charging.
Support multiple charging methods
USB port charging design, rechargeable batteries, computers, cell phone chargers, etc. can help it charge. Get rid of the extra wires, the scope of application is no longer limited, no need to find outlets everywhere.
Summer essential
The fan comes with a phone stand function, you can watch TV programs while blowing wind, cool and entertaining.
Easy to clean
The detachable design makes the fan easy to clean and does not hide dirt.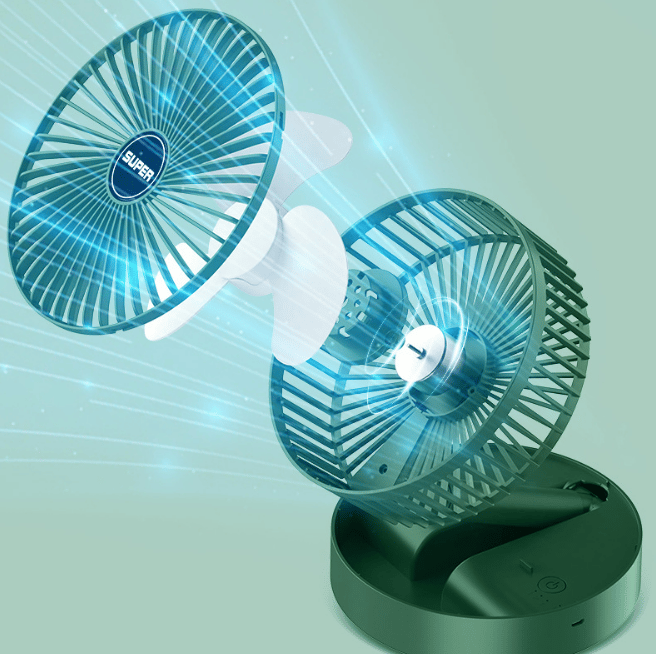 Detailed description
Large fan blade design, easier to get more wind; ABS body, durable and increase the service life; intelligent panel, more responsive; safety hand protection grid, protect children's hands, prevent children from direct contact with the fan blade scratches.
Applicable to a variety of scenes
Can be used indoors: bedroom, living room, kitchen, etc.; can also be brought to outdoor excursions, camping use; long-distance travel by train, ship use; can also be placed in the car.
Description
Color: green/white
Wind power gear; 3 gears
Package includes: USB foldable fan+Data Cable
View full details
Elevate the decoration of your house to the next level.
Transform your living space with The Bulldog Butler. It combines style and function to create a beautiful and practical addition to your home. Made from high-quality materials, it's durable and built to last